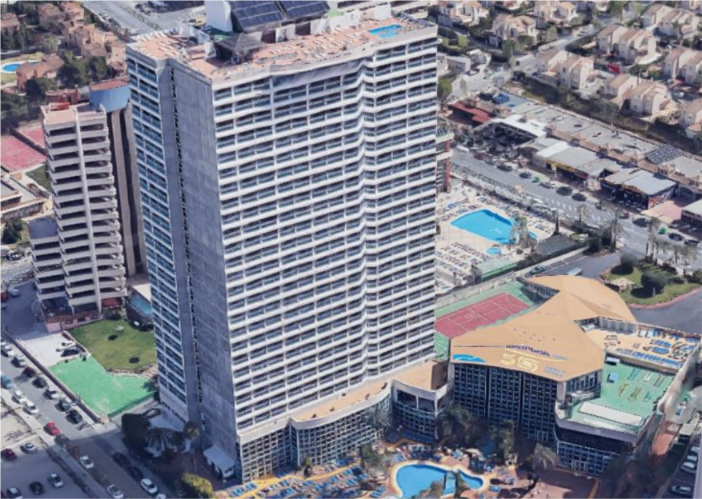 HOTEL FLAMINGO OASIS (Spain)
TYPOLOGY: HOTEL
LOCATION: SPAIN (Benidorm)
AREA: 41,192 m²
PHASE: in use
LINK: www.medplaya.com
Construction description
Flamingo is a concrete structure building with 24 floors, 1 roof spa and 2 levels basement.
Uses distribution
Ground Floor:Reception lobby, cafeteria, common areas, office
Ground Floor (-1): disco, dining room, indoor pool, gym, nursery, kitchen
L01-L24: 361 rooms
Basement: parking, services room.
Envelope characteristics
The building is oriented to south. Prefab concrete panels on the façade + brick internal layer with plaster render. Single and double glazing on top floors. Double glazing on groundfloor+courtain wall.
Building Systems
Heating and DHW: natural gas boilers
Air Conditioning: General units to satisfy common and private activities + splits and cassette to support specific precincts.
Ventilation: natural/AC system.
HVAC controls: central for heating. Distributed for AC and Ventilation.
The Renovation roadmap designed for Flamingo Oasis counts with 3 steps from lower to high performance actions.
The first renovation step covers a set of measures which represent a further step in the renovation strategy. Most of the renovation actions covered in this package, are focused more on improving the lighting systems, control standards, and DHW consumption savings. Other than the explicit mentioning to certain measures, this package should be understood as one which will lay the foundation for the future control of the hotel and its installations. It should consider the installation of smart meters in the new pieces of equipment, in the lighting, out of each AC circuit to the rooms, and common areas. The second renovation package is mainly focused on finishing the passive measures related to the glazed areas, improving the air tightness. This renovation package also covers the installation of PV technology in the roof, substituting the inefficient and rather obsolete solar thermal installation and integrating pvs on the balconies located on the south façade. The third and last renovation package aims to finish the different strategies started in the previous ones, meaning control strategy, passive measures, and renewable contribution. The goal is to try to make the hotel as close to the nZEB as possible, while addressing other normative-compliant aspects, health and wellbeing, for instance.
ESTIMATED PRIMARY ENERGY SAVINGS
Non Ren Primary Energy: 42.5%
Heating: increase of 84%
Cooling: increase of 30%
Ventilation: natural forced by the AC system
Domestic hot water: 100%
Lighting: 11%
PVProduction: 55 kwhPE/m2y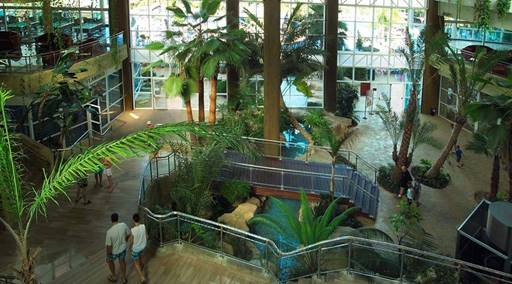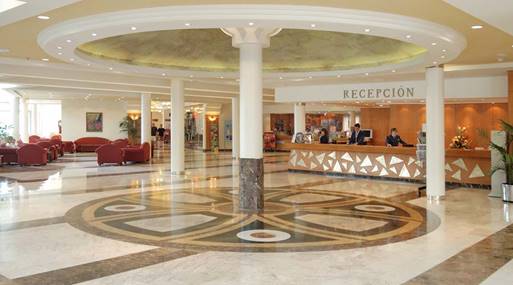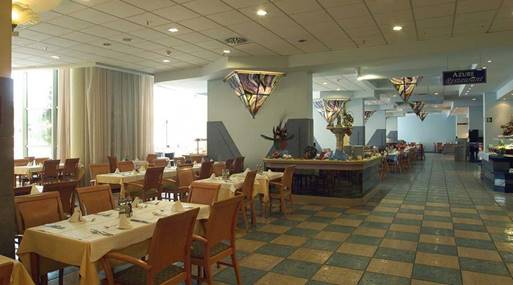 This project has received funding from the European Union's Horizon 2020 research and innovation programme under grant agreement No 754159. The information in this publication does not necessarily represent the view of the European Commission.
© ALDREN. All rights reserved.
Any duplication or use of objects such as diagrams in other electronic or printed publications is not permitted without the author's agreement.
info@aldren.eu
T. 0034 678 985B 432