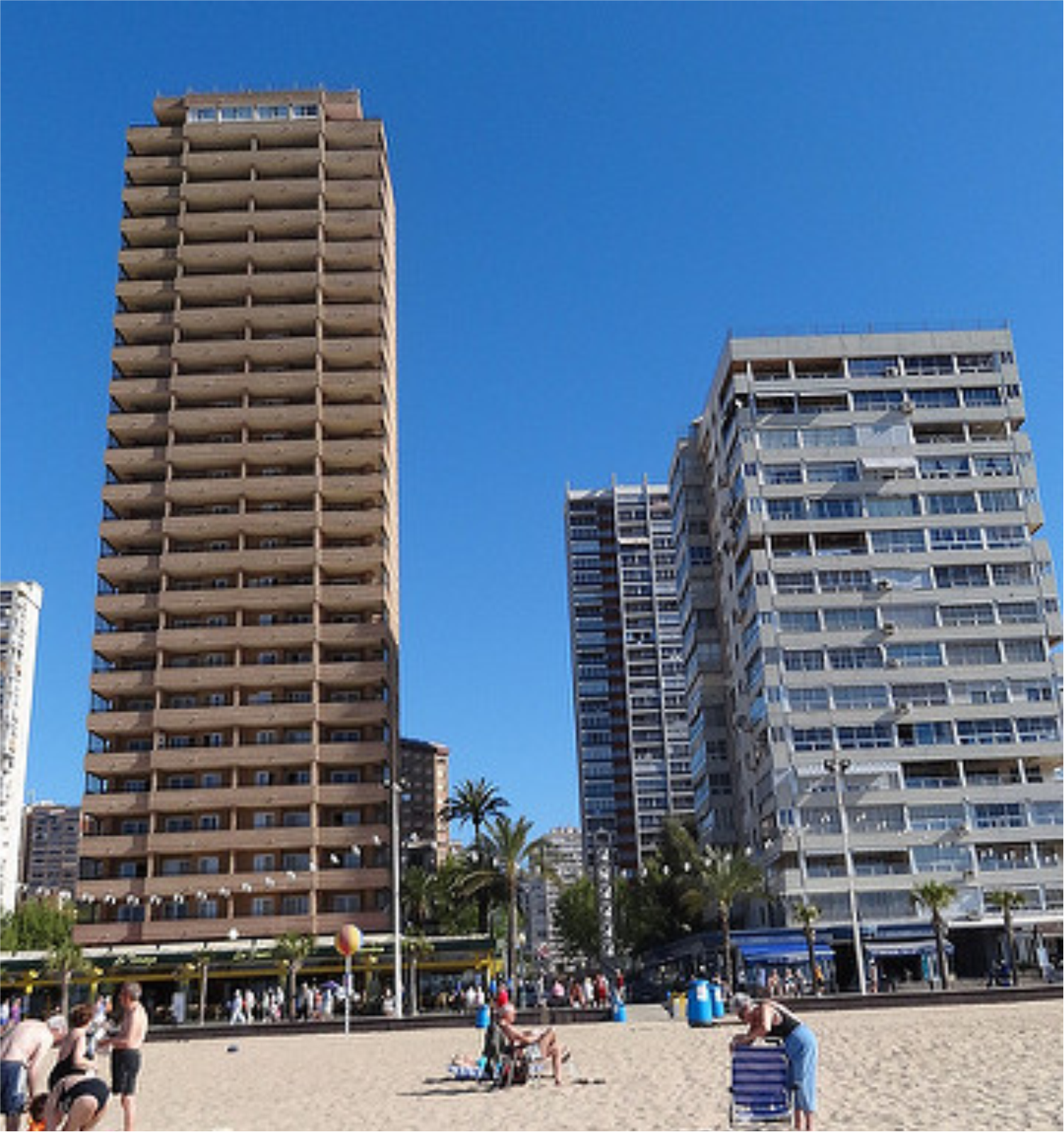 Les Dunes Comodoro Hotel is 24 stories building built in 1991 and renovated on November 2003. It is located in Benidorm, Spain, and has 7151.59 m2 of gross internal area distributed in common areas, 1 restaurant, 1 cafeteria, 1 gym, a reception lobby, different kind of non-hosting areas and 92 rooms.
TYPOLOGY: HOTEL
LOCATION: SPAIN (Benidorm)
AREA: 10,368 m2
DATE OF CONSTRUCTION: 1991
LAST RENOVATION: November 2003
OWNER: Promociones Les Dunes S.L.
LINK: www.lesdunes.es
Construction description
Les Dunes is a concrete structure building with 24 floors + 1 technical floor located just above the ground floor.
Uses distribution
Ground Floor: Reception lobby, dining room, cafeteria, common areas, office, swimming pool.
Level 01-Level 24: 92 rooms
Basement: parking, services room, laundry, kitchen.
Envelope characteristics
The building is oriented to south. Brick facade composed by a 5cm air cavity without insulation and an internal brick wall rendered with plaster. Single and double glazing on top floors. Double glazing on ground floor. The roof is not insulated, finished with ceramic tiles.
Building Systems
Heating: propane gas boiler
Air Conditioning: independent units per 2 rooms
Ventilation: 1 Air Treatment Unit for the restaurant and other common areas.
HVAC controls: central for heating. Distributed for AC and Ventilation.
The renovation measures proposed by ALDREN focus on improving the Energy Efficiency of Les Dunes. They consist in renewing the HVAC system, the Domestic Hot water supply service leaving fossil fuel behind and using a more ecologic technology. To install a Smart lighting system and including Renewable energy generation through Photovoltaic Panels, updating the most part of the building systems.
On the meantime, all the new services will be monitored by a centralized control system allowing the property owners and managers to understand how Les Dunes works, where it is possible to optimize its use and to check its current status. All these active measures are wrapped inside a high-spec envelope composed by low emissive glazing systems and a new insulated facade and roofing, neutralizing the thermal bridging on the most critical locations.
All these energy Renovation Actions will have an important impact on Les Dunes Internal Environment Quality, that was monitored during the study, to understand how the internal comfort is affected by the current building conditions.
Other important renovation measures don´t have to be with the building itself but with the appliances installed on it. For hotels, the kitchen is the space with more energy consumption per m2 what makes the use of high efficiency appliances essential.
The Energy Renovation Actions are listed inside Les Dunes Renovation Roadmap distributed in packages to maximize the energy savings and investment sustainability during specific periods of time.
ESTIMATED PRIMARY ENERGY SAVINGS
Total primary energy: 44.2%
Heating: 83%
Cooling: 33%
Ventilation: natural forced by the AC system
Domestic hot water: 60%
Lighting: 71%
PV Production: 5.77 kwhPE/m2y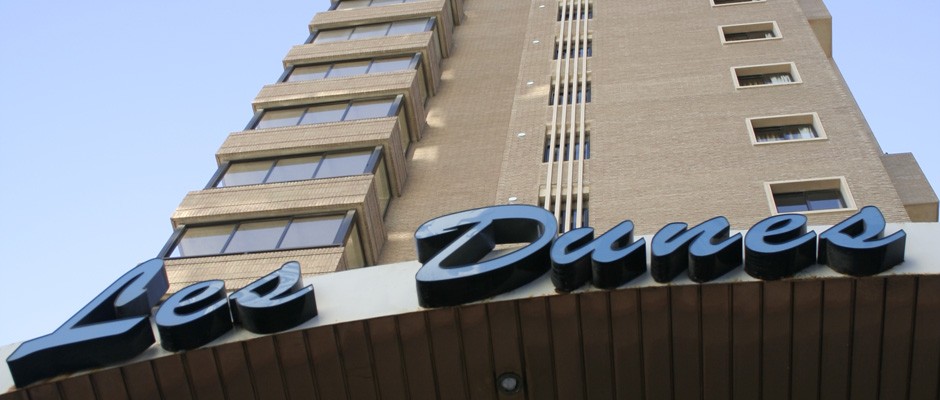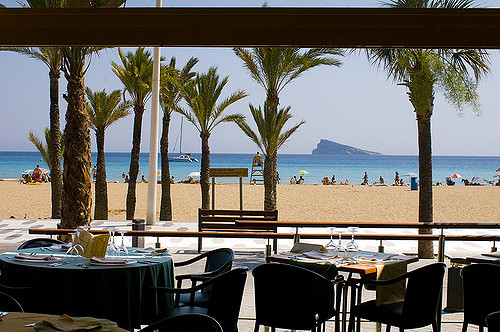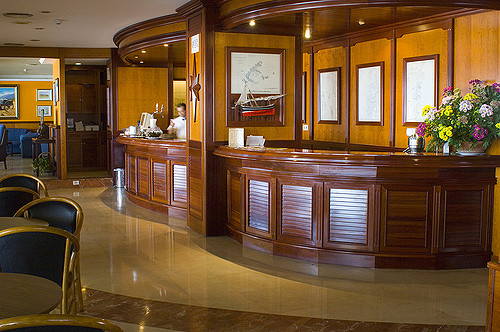 This project has received funding from the European Union's Horizon 2020 research and innovation programme under grant agreement No 754159. The information in this publication does not necessarily represent the view of the European Commission.
© ALDREN. All rights reserved.
Any duplication or use of objects such as diagrams in other electronic or printed publications is not permitted without the author's agreement.
info@aldren.eu
T. 0034 678 985B 432